Episode 23: Pastor Gregg Farrell on COVID-19
There is a lot of misinformation about and misrepresentation of the gospel amid the COVID-19 crisis. With Easter falling in the middle of it, I thought it was important to have a pastoral voice on this podcast to guide us toward some truth in this season. Gregg Farrell is the senior pastor at my church here in Bowling Green, Kentucky — Crossland Community Church — and he is truly one of the smartest Biblical teachers I've ever met.
I've been wanting to get Gregg on here since I started this show, but I wanted to wait for the right time. I'm grateful to have him on now to sort of shepherd us through all of this. We covered a lot, and if you've never gotten to hear Gregg talk, you're in for a treat. We were blessed to have Gregg officiate our wedding, and we're continuously grateful to be under his teaching each week.
We talked about churches moving to online services and churches who are refusing to cancel in-person services (6:12) and how the biggest thing people need from the church right now isn't "cool," it's consistency (9:21).
The main reason I wanted to talk to Gregg right now was to give us some Biblical context on what is happening. There are a lot of people — Christians included — who are suggesting this is the end times. They're pointing to 2 Chronicles 7:13-14, which says, "When I shut up the heavens so that there is no rain, or command locusts to devour the land or send a plague among my people, 14 if my people, who are called by my name, will humble themselves and pray and seek my face and turn from their wicked ways, then I will hear from heaven, and I will forgive their sin and will heal their land," and suggesting that's a prophecy of the end times.
Gregg addressed that and the conversations surrounding it (15:35).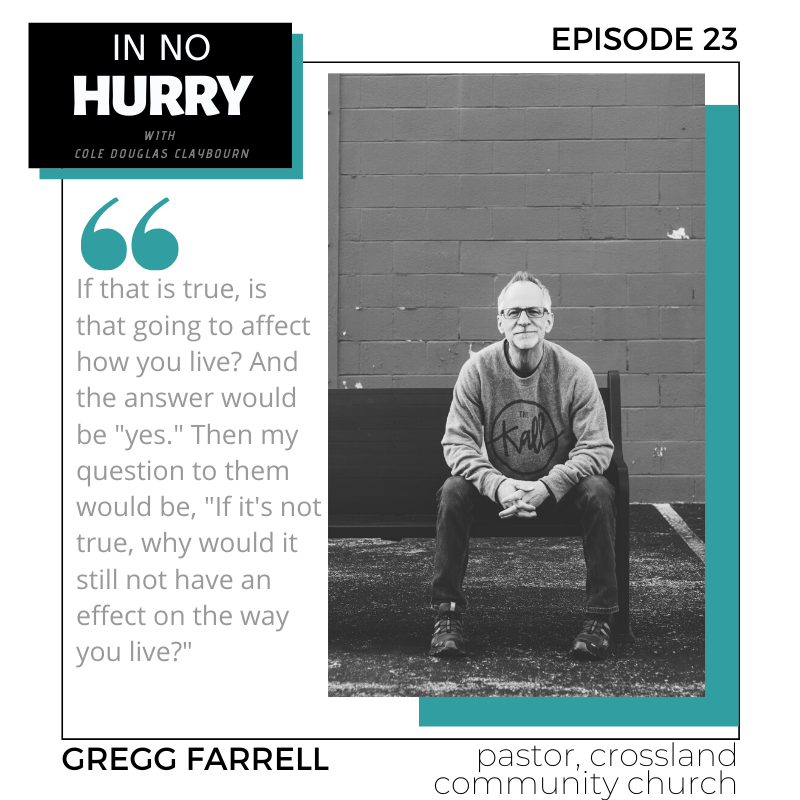 We also talked about giving and generosity during this time, even when it might feel like the last thing on your mind (23:06), being angry with God both in general and during COVID-19 (40:28), and asking God the question, "Why?" (46:37).
Get your pen and paper ready, because you'll want to take notes.
Links
Give Gregg a follow on Twitter. He's engaging and challenging, which makes him a great follow
If you're looking for a church to get plugged into during quarantine, check out Crossland Community Church's website. There's programming just about every night. Earlier this year I interviewed my friends who started The Kall — a ministry for 18-30 somethings. That happens every Monday night. Every Tuesday night, Gregg teaches a group Bible Study that feels more like a seminary class. If you enjoy learning about the Greek root words of text and just learning Biblical knowledge in general, this is definitely worth checking out
Check out some of Gregg's past sermons, particularly the most recent series we did on Hebrews entitled Greater, which I referenced in a previous episode
If you need to get in touch with me, give me a follow on Instagram at coleclaybourn or on Twitter @ColeClaybourn. Check out the podcast Instagram as well — @innohurrypodcast. You can also email me at innohurry@coleclaybourn.com.