Episode 53: Discipling Young Adults with WKU FCA Director Wayne Dickens
What are the most pressing issues facing young adults right now? How can the Church respond to meet those needs, and what should we be teaching young adults to help fix it?
How can we promote and achieve unity in the Church and in our nation?
I spoke with Wayne Dickens about all of that and much more this week. Wayne is the Campus Director for the Fellowship of Christian Athletes at Western Kentucky University and I'm so excited to introduce him to you this week. I'd never met Wayne until he preached a sermon at my church a few weeks ago on unity, and it struck me as a conversation we needed to have on this podcast.
As a teacher and someone who seeks to reach young adults, I also appreciated his perspective on what issues young adults struggle with the most and how we can approach those through the lens of the gospel.
He said the biggest issue facing young adults right now is relationships. Cell phones and social media have made it easier to isolate ourselves and do our relationships through a screen. Because we've grown so isolated with our relationships — especially this year — it's affected our relationship with God, he said.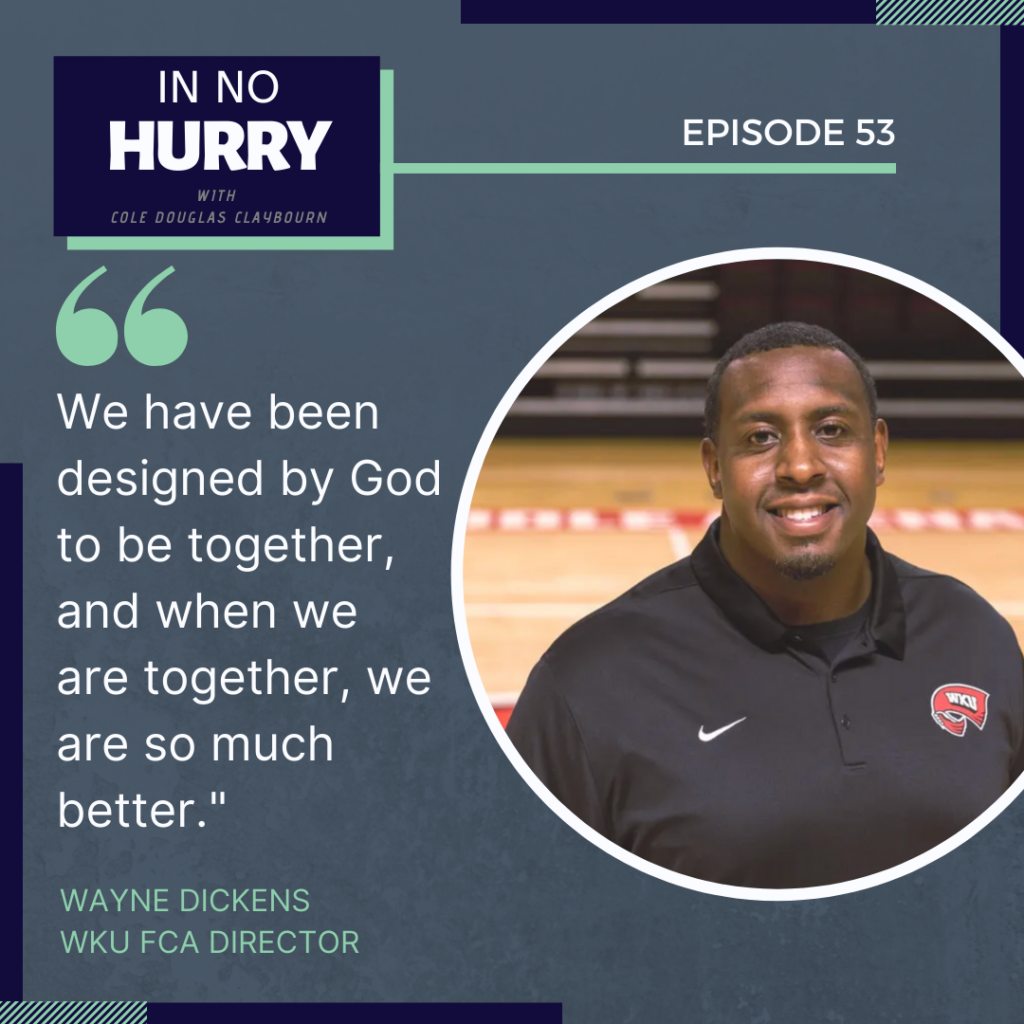 Wayne is a former college and professional football player and I think you'll really enjoy hearing him talk about his faith journey, his career change into ministry and his heart for people.
You can follow him on Instagram @wayne_dicken5 and you can check out and support WKU FCA here: https://www.wkufca.org/donate
Speaking of support, one of the most helpful things you can continue to do is to spread the word about this show to friends and family who might be interested! It also helps a ton if you leave a five-star review on Apple Podcasts. That helps others know this is a show that would be good for them. Think of it as an Amazon review.
I also want to invite you to subscribe to my weekly newsletter where I send you a devotional each week and occasional giveaways! Subscribers have had the chance to win some free books and free coffee. You can sign up here:
I'd also love for you to check out this week's sponsor, Almost Home Clothing. My buddies Spence and Nick started this company this year to help inmates ease back into the world when they're released and restore dignity to their lives. You'll hear from Spence mid-episode about Almost Home, but check them out online at almosthomeclothing.com and on Instagram @almosthomeclothing.