Episode 22: Oklahoma Softball Player Shannon Saile
It's a weird world as a sports fan to not have any sports to watch right now. It's even harder for athletes, though, whose sport is on hold indefinitely due to COVID-19. Some have seen their careers end abruptly. This week you'll hear from Oklahoma University softball player Shannon Saile, whose senior season was canceled early because of the virus.
Every Thursday in April, I'll feature an athlete whose season or career has been affected by the Coronavirus. Whether or not you're a sports fan, my hope is that their Christ-centered outlook on a disappointing situation is something we all can apply to whatever is going on in our life. We're all impacted by this in someway. How we respond will significantly impact our mental health throughout this entire thing.
As you know, I'm a sports journalist by trade and now am a high school tennis coach. On top of that, I'm a huge sports fan, so I've got a soft spot for athletes during this time. I got a chance to talk to Shannon a few weeks ago for a story I wrote for Sports Spectrum about her getting baptized. The next day, the NCAA announced it was suspending the Spring sports season, eventually canceling it.
I love her outlook — how she knew she'd be tested and was ready for it. And if she never got to play softball again, she'd be fine, because her identity is in Christ, not softball.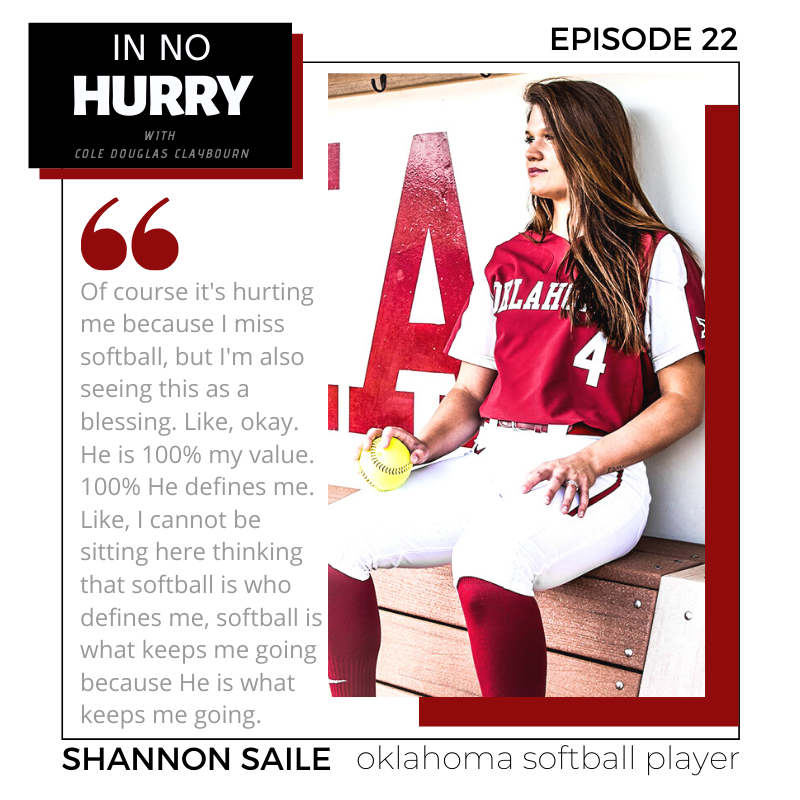 "There's much more to life than just softball," she toId me for the Sports Spectrum article. "Softball doesn't define me. I will keep my faith regardless of the cards we are dealt. I have faith I didn't play my last softball game this past weekend. I hope through Jesus to remain a light in people's lives through this pandemic."
The silver lining here is that, since we talked, the NCAA granted Spring sports athletes an extra year of eligibility, so she indeed did not play her final softball game.
But I just loved her perspective on this. Enjoy.
About Shannon Saile
2019 All-Big 12 Second Team Selection
As a junior, she ranked second nationally in hits allowed per seven innings (3.56) and strikeouts per seven innings (11.2)
Transferred to Oklahoma after playing two seasons at Florida International, where she was an All-Conference USA first-team selection in 2017 and 2018, and was named 2017 Conference USA Freshman of the Year

Links
If you need to get in touch with me, give me a follow on Instagram at coleclaybourn or on Twitter @ColeClaybourn. Check out the podcast Instagram as well — @innohurrypodcast. You can also email me at innohurry@coleclaybourn.com.